High performance nucleating solutions enabling blown film extrusion with polypropylene. Developed by KAFRIT in cooperation with BASF.
Better utilization of resources, energy, and film converting assets becomes essential to supply technical films in a sustainable and economically viable manner.
Blown film lines, agile and efficient, are rarely running with polypropylene resins despite a clear interest for this polymer's intrinsic properties.
Clarifying and nucleating additives technology can ease processing and provide opportunities to industrially produce high-quality blown films with polypropylene.
CONSTAB® NC 00607 PP is a unique performance enhancer for polypropylene films. At very low concentration, it provides a good balance between processing stability, mechanical strength, and aesthetic properties.
The benefits at a glance
Recommended Product Form
Clarifying and nucleating agents are easily introduced via CONSTAB® masterbatches
Dosage of masterbatches between 1% and 5%
Increased flowability
Improved processing window
Mechanical Performance
Significant increase of stiffness
Efficient in both machine and transverse direction
Exploits potential of polypropylene in thin films
Downgauging without loss in performance
Improved Aesthetics
Drastic reduction of final film's haziness
Removal of flowlines and visual defects
Superior gloss and shine
Supplementary Elements
Food contact compliant solution
No impact on organoleptic properties
Fit for recycling
Data on this page have been provided by CONSTAB® Polyolefin Additives GmbH – Member of Kafrit Group. BASF's Irgaclear® technology is formulated into CONSTAB® NC 00607 PP functional masterbatch.
Polypropylene morphology modification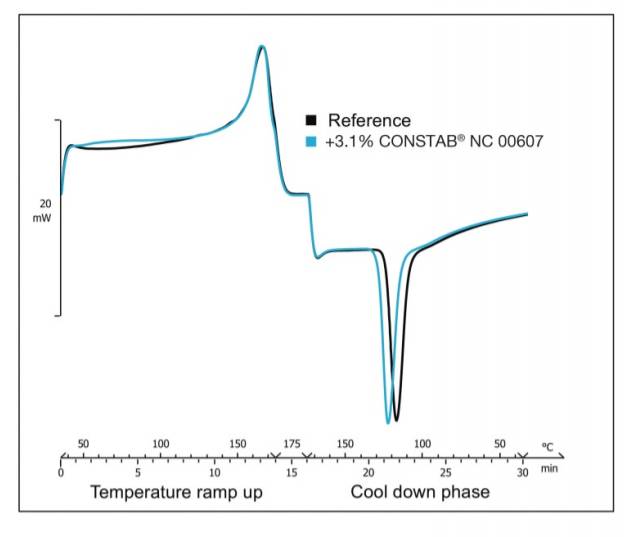 CONSTAB nucleating solutions using BASF Irgaclear® technology will accelerate crystallization, starting at higher temperatures in the polymer melt. The resulting crystallinity and aesthetic properties will be optimized.
Haze improvement with CONSTAB® NC 00607 PP (BASF Irgaclear® inside)
Three layer films have been produced and modified to optimize processing and aesthetics.
Bubble stability using CONSTAB® NC 00607 PP (BASF Irgaclear® inside)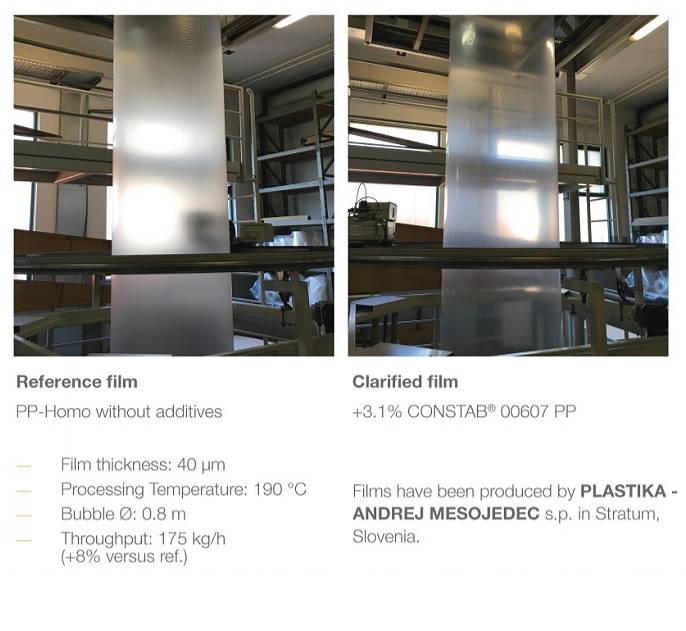 With the introduction of the additive package, visual defects are eliminated with flow line removal and substantial reduction in haziness. Improved polymer melt strength enables stable processing conditions.
Superior mechanical performance
Very good intrinsic mechanical properties of polypropylene films are enhanced by the addition of CONSTAB® NC 00607 PP.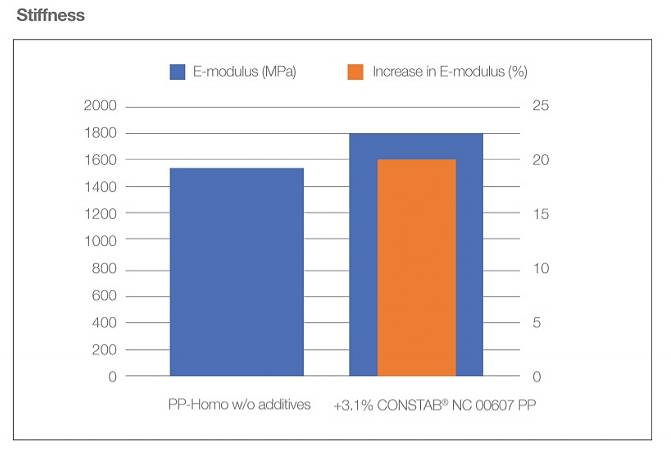 Film thickness: 40 μm – Tensile testing measured in machine direction